Resolutions are out of style. The last time I made one was when I was worried Prince might be right about 1999. Over the years, I've read criticisms of resolutions in general. They are the express bus to Failureburg. Most people who permanently change their lives do so not because of a calendar square but because of inner change coupled with strength.
In Christian lady circles, the fashion of the past few years has been to pray about and discern a Word of the Year. This has come to replace the classic resolution. There are numerous websites and bloggers who are determined to help and inspire a woman to discover her personal word. We are encouraged to pray for the Spirit to show us where we will be led in the coming year and what quality or virtue to meditate upon. Normally, this is the type of thing that make my eyes roll enough to carry a rubber raft packed with 16 tourists through a canyon. Class 5. The Spirit isn't bound by a calendar square, either, but I feel Jesus understands the human squee over new starts because he's the Ultimate New. He could press a word into my soul on a June Tuesday, but I hope he meets me now as 2015 dawns.
He has. I have a word. It is Obey.
I've been arguing with him over it since early December. How was OBEY going to look on my little artsy graphic I create on my iPhone? Bliss would be so pretty in a scrolled font. Joy would look great in bright yellow. Grace lends itself to a soft landscape. More importantly, OBEY is scary.
But over and over, the word popped up. I first heard it during prayer. I began to read about obedience to Jesus everywhere, in devotions, in a biography I read about Dietrich Bonhoeffer, on the radio. I've long known and believed obedience to Jesus can only lead to freedom. Obedience IS freedom. There is something daunting about how it was constantly slid into my pockets to find. Where am I being taken in 2015 where OBEY is front and center?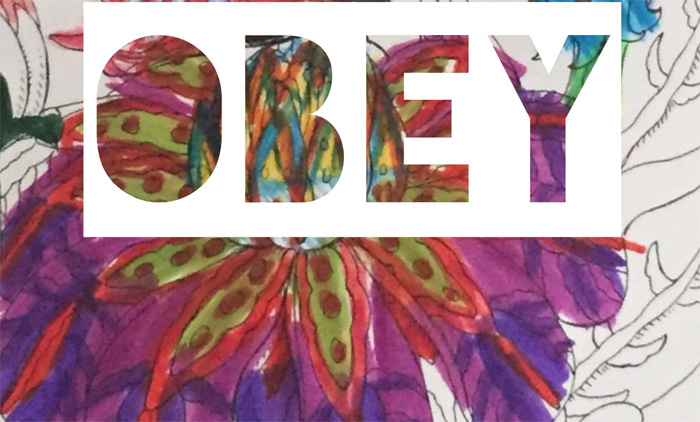 Over the past few days, I've seen the pretty square graphics cropping up at Instagram and at Facebook. 98% of them are fun, lovely, joyous words. "My word for 2015 is BLISS!" one woman squeals. Oh, nice. Bliss.
Other words: Thrive, Grow, Explore, Embrace. I could do those things, Jesus! Hey! Can you give a back up word to me, something to pair with OBEY? Nobody would eat a spoonful of horseradish on its own, but spread on a slab of medium rare prime rib and wow. Could I have some prime rib to go with my horseradish of a word?
I waited and it became clear my first act of adopting OBEY would be to obey OBEY. I made a list in my journal of the myriad ways I need to be a more obedient follower of Christ, to put aside fear. I wrote about how some of the other words I'd seen were so, so stupid. How much of a challenge was it going to be to focus on BLISS? Or SHINE? Wasn't the idea to step out into faith and the fray of challenge? To go where you've never been? To make progress? How can such sparkly pink lemonade words inspire anyone to go deeper with Jesus?
I stopped writing. The memory of a terrible, kick in the gut year crept up. Bliss was a stranger. If I shined, it was because the tears on my face caught a street light on a rainy night. I ached to thrive.
My mistake when looking at the words on splashy, nicely-done graphics was to confuse another woman's word with what was going on in the most secret depths of her soul. Perhaps Bliss is just as rocky and daunting as OBEY—for her. Perhaps the act of declaring Bliss was revolutionary to not only herself but those who know her best, who have intimately witnessed her struggles. Bliss, for her, is the bravest. It will require daily dives into the word and prayerful support. She will come to the end of 2015 stronger, wiser, and ready for another word.
Her hand will stretch out, palm up, waiting.
Every woman with a Word of the Year has a secondary word. It's Trust.